Back in August of 2013 I did a little road trip that I never posted about. Mostly because I thought I had lost all my photos. Luckily I recovered them recently. So how about a little story?
I talked my Uncle Harv to come up and do a tour with me. He had just turned his Harley-Davidson Super Glide into a trike, and man was it a sweet looking bike. He drove up to Indianapolis from Texas, a little over a thousand miles.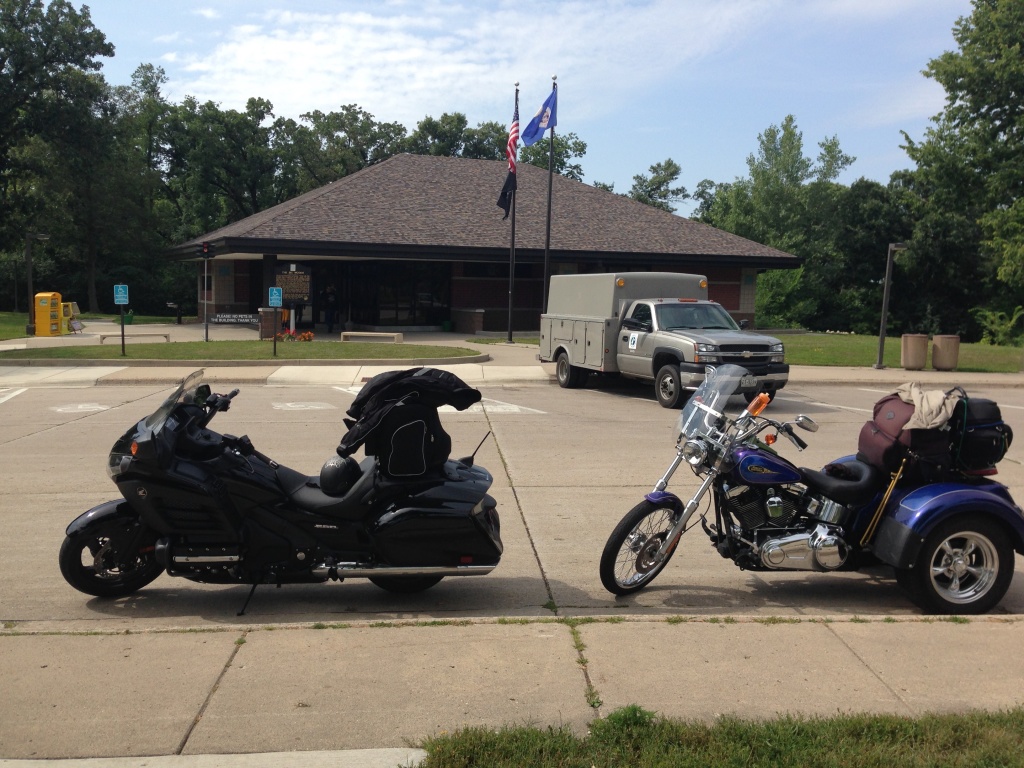 We talked about a route, but he doesn't like to make plans more than a day ahead. He's more of a plan as he rides kinda guy. And uh… I'm not. I laid out my plan to ride through several National Forests, and talked him into following me.
Roughly 2600 miles up through the UP, around Lake Michigan, Lake Huron, Lake Superior, Canadian Border, through Minnesota, and down through Iowa to visit my sister. We had 10 days, and a pretty damn nice weather forecast.
I don't know why I set upon trying to visit the National Forests along the way. I just really like forests, camping, outdoors stuff, and thought it'd be nice. I was right. For starters, a proper ride through them gets me off the interstate. Slow down, take a look, enjoy the damn ride. Much less traffic, often shady with cooler temps, lots of wildlife (good and bad), and the wonderful old growth forests. After the first few, I made a challenge to myself to ride through them all. No small challenge of course, there's 155 of them. *gasp*
So here's a flikr set of the forests I drove through on the trip. I checked a few off the list.  Superior was my favorite, it was downright cold up there, 45F in the last week of August. You could tell a major difference in the forest, evergreens instead of deciduous trees. Ottawa was very similar.
The trip was pretty uneventful.  We did get rained on pretty hard once, and it was freaking chilly up near Canada, but it was great. The best ride of the trip was up 61 along the northern coast of Lake Superior. It's just gorgeous.
The trip down to Iowa was all interstate. It's terribly boring on the interstate, but we did stop at a casino with a dedicated snowmobile / motorcycle parking area.  Life has to be a little tougher wherever snowmobiles make good financial sense.
All along the trip I had been making fun of Iowa. "Who in the world would want to live in Iowa?" Well, when I got there I stopped joking about it.  Yeah, it's flat, hot, dusty farmland, but it was gorgeous. Miles and miles of beautiful skies and nice smooth roads.
My uncle and I split ways in Iowa, saving him 1300 miles from heading to my house first.  He headed home to Texas, and I headed back to Indianapolis. Interstate the whole way…. boo. But I spent 10 days away from home and the wife needed me to save her from the kids.  A great trip overall, and would recommend it anytime… as long as it's summer.
I'll talk about the bike and it's performance in another post.