It was time for a ride.
If you ride a motorcycle yourself, you already know the feeling. If you don't, well you'll just have to take my word for it. Something about the breeze, the road, and a bit of freedom are all addicting. My last trip was August of 2013 when I toured up through the Upper Peninsula of Michigan and around Lake Michigan. That was a great trip, and I hoped to replicate those good vibes. This time I was going solo and riding southwest though as many National Forests as I could. Late October is full of vibrant fall colors in the midwest US, prime and ready for some photographs. I also wanted to visit my riding buddy in Hewitt, TX. So those were the goals, it was just a matter of connecting the dots on the way down.
The problem was, there were a lot of damn dots.
If you look at the map, there's a lot of forests between Indiana and Texas.  I decided to head west and south to follow the Mississippi river, trying to stay off of much of the interstate so I could slow down and enjoy the trip. Day one targets were Hoosier National Forest, and Shawnee National Forest. You can see my route on the map at the bottom of the page. I really kept the plan open, and booked hotels a couple days in advance just to make sure I could get a hotel room on the weekend days. First day was around 315 miles planned, pretty easy and allowed us to ease into the grind of the road.
Hoosier National Forest is the closest National Forest to my home. I know it well. I've ridden it many times, hiked it, and camped in it. The rolling hills provide excellent riding, and the fall colors just make it candy for the eyes. If you ever get down that way, 37 and 150 are both nice rides through there. I didn't stop for a sign picture on this trip as I already had one, so this is a slightly older picture.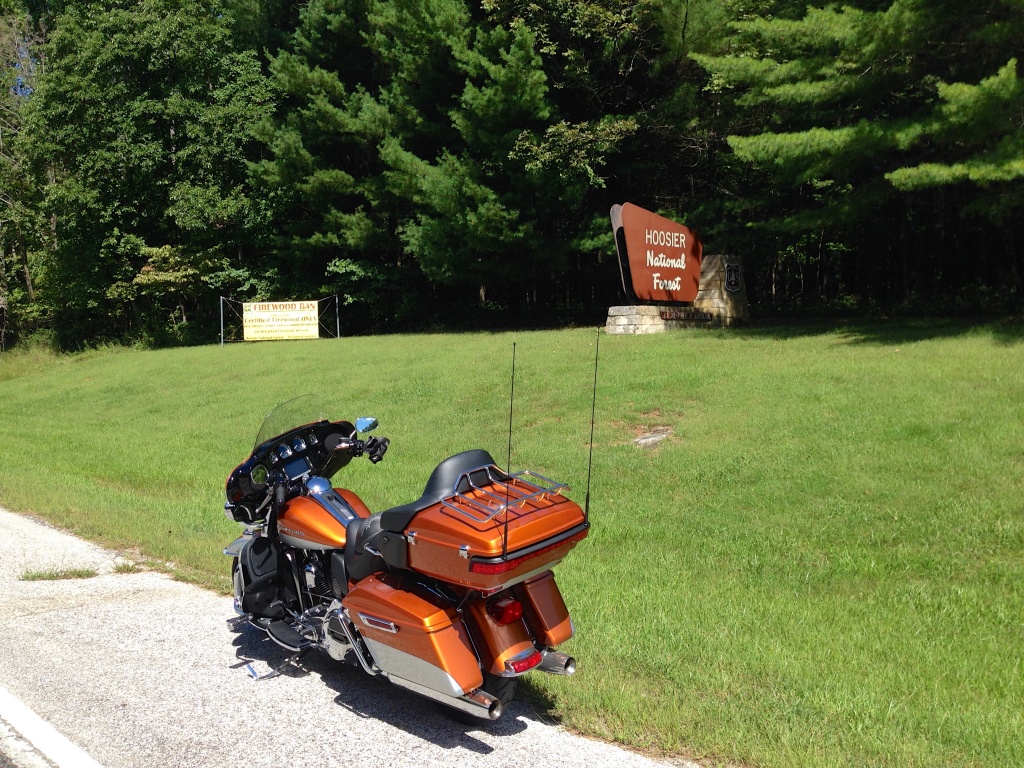 Just off the side of HNF is Martin State Forest. I stopped there and took some pictures at Martin Lake. It was a perfect day, and this made some great pictures easy to get.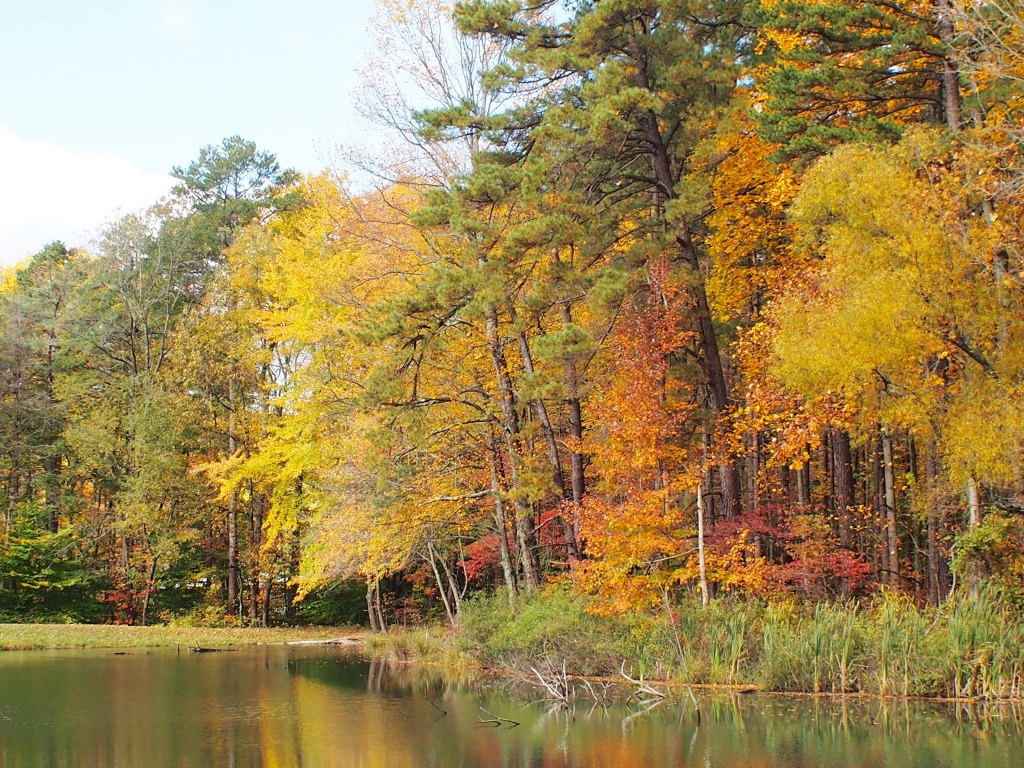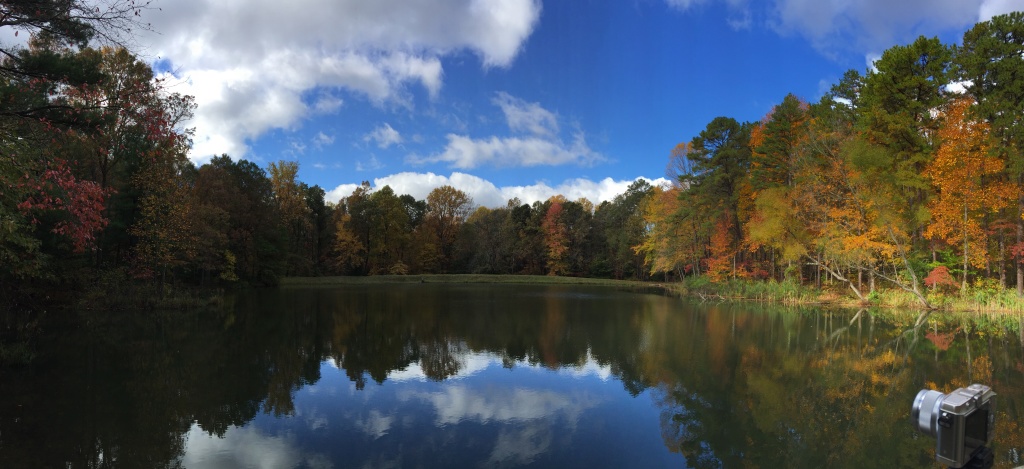 Between my targets was a brand new stretch of Interstate I-69. My wife and I work for a civil engineering firm and have worked a bit on different parts of the I-69 project through southern Indiana. Neither of us had driven some of the new construction that was opened, so I took the opportunity. It's rare for me to get excited about interstate, but this was years of work and I got to see it all shiny and new. Not quite complete, but getting closer. A few more decades to go!
After crossing the Wabash River, Illinois welcomed me via a large sign on the bridge. A small drive south lay the Shawnee National Forest. The fall colors of the SNF were gorgeous. Much like the HNF, the rolling hills provide a fun ride. Tucked inside SNF is a treasure called the Garden of the Gods.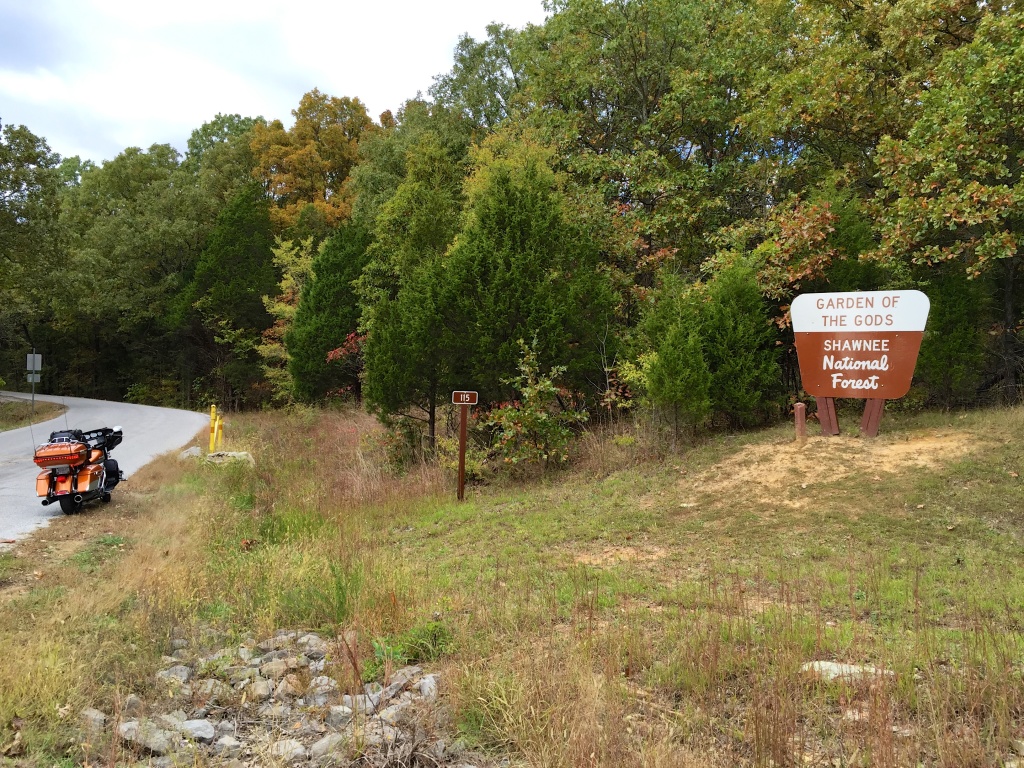 Very basically, the Garden is a bunch of rock formations. They provide some breath taking views of the forest, and combine that with the fall colors and you have some magic. There's a campground there as well, I plan on coming back to enjoy it further.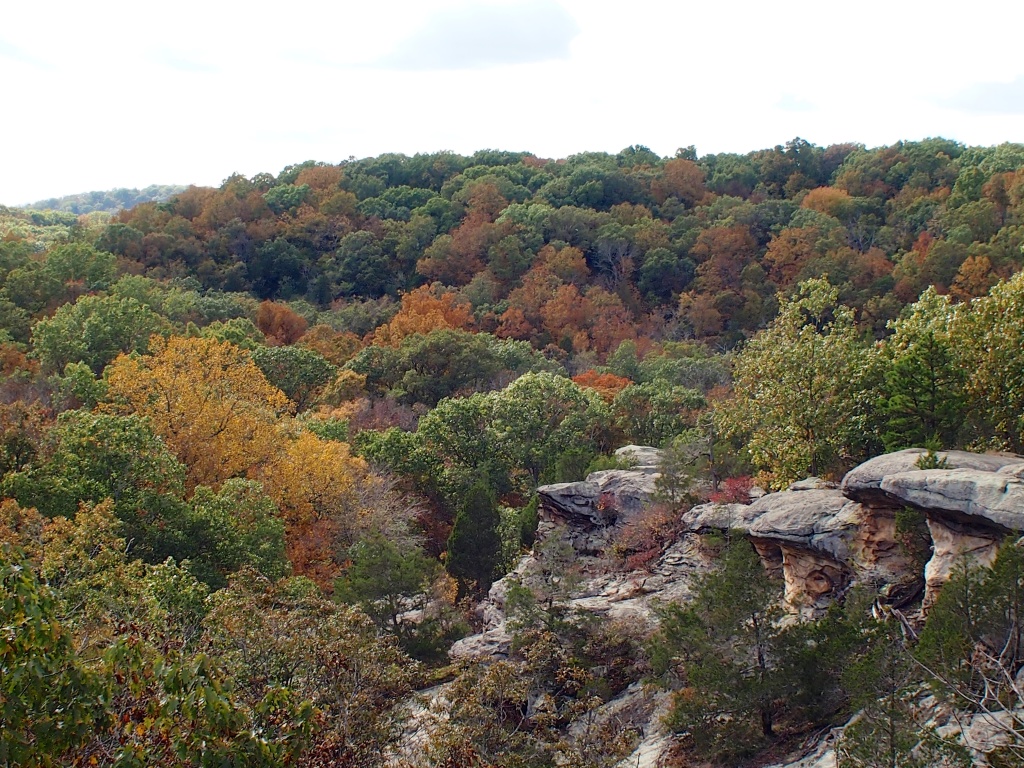 Finally it was a short drive over the Ohio River into Kentucky for the first hotel of the trip. The Best Western of Paducah, KY. I can't recommend this hotel enough. The hostess new exactly what a motorcyclist wants. A secure place to park the bike under the canopy and under the gaze of a security camera. I unfortunately didn't catch her name as she was training another lady, but she was great. Clean room and a hot shower hits the spot after a good days ride.
More coming up…