In July of 2013 I traded in my Road Glide Special for a Honda F6B. I was a bit frustrated with how the RGS performed, and what it needed to turn it into a proper touring bike. I was under the remarkably wrong impression that a motorcycle advertised in the "touring" section of the model lineup would be perfectly fit for long distance touring as purchased. That was mistake #1. After taking the Honda on my Upper Peninsula tour, it was obvious I had made mistake #2. Both of these were mostly my fault, and I'll explain how to not make the same mistakes I made. This is going to be long, but I'm going to have to step back to the beginning to make proper sense of it all.
In the spring of 2012 I decided I wanted to get back into motorcycling. I hadn't ridden since 2001, and lost my motorcycle endorsement when my Texas drivers license wouldn't transfer to Indiana (It transferred just find THERE mind you). In the United States, there's a huge HD following. It's a life and culture all it's own, and I'll get to more of that later. The first time I took a motorcycle endorsement class it was hosted by the state, on tiny little (100cc?) bikes. I really wanted to take the class on a bigger bike, something more like what normal people ride. HD classes seemed like the perfect fit.  You rode a medium 500cc Buell cruiser type bike. It really gives you a better feel on how a typical motorcycle will handle. It was more expensive, but I strongly recommend their riders edge course. The class I took was 3 hours a day, for 5 days. Despite the class happening during one of the hottest streaks of weather we've ever had in Indiana, everybody in the class still had a great time.
When it came to picking out a motorcycle I knew I wanted a HD. I also knew I wanted to tour the US, with my wife (she didn't agree with this part). My first thought was to buy a Sporster. Small, cheap(er), easy to customize, and the Nightster model was new and exciting. Well, I learned pretty quickly that the Sportster wasn't the right bike for my touring two-up aspirations. The salesman confirmed my thoughts. More than 50% of folks that buy a Sportster come back within 18 months for a bigger bike. If you are going to tour, you need to carry stuff. Saddlebags are almost mandatory, so it's a short jump in the selection process to get to the "touring" models. Baggers are also hot right now. They are touring bikes, with bags, usually lowered, larger front wheels, and heavily customized.
The Road King Classic spoke to me visually. I test drove it and loved it. It was freaking huge compared to my old Kawasaki Vulcan, but once moving it didn't feel so big anymore. The rumble of the exhaust, the impeccable paint, the leather saddlebags, wow what a bike. Sat on the one I wanted in White Hot Pearl, gave them a deposit check, and went home to think about it more. Here I am (also at my heaviest weight.. another post sometime) on the Road King Classic ready to sign the loan papers and fulfill my dreams of the wind in my hair… ok, maybe not so much in the hair.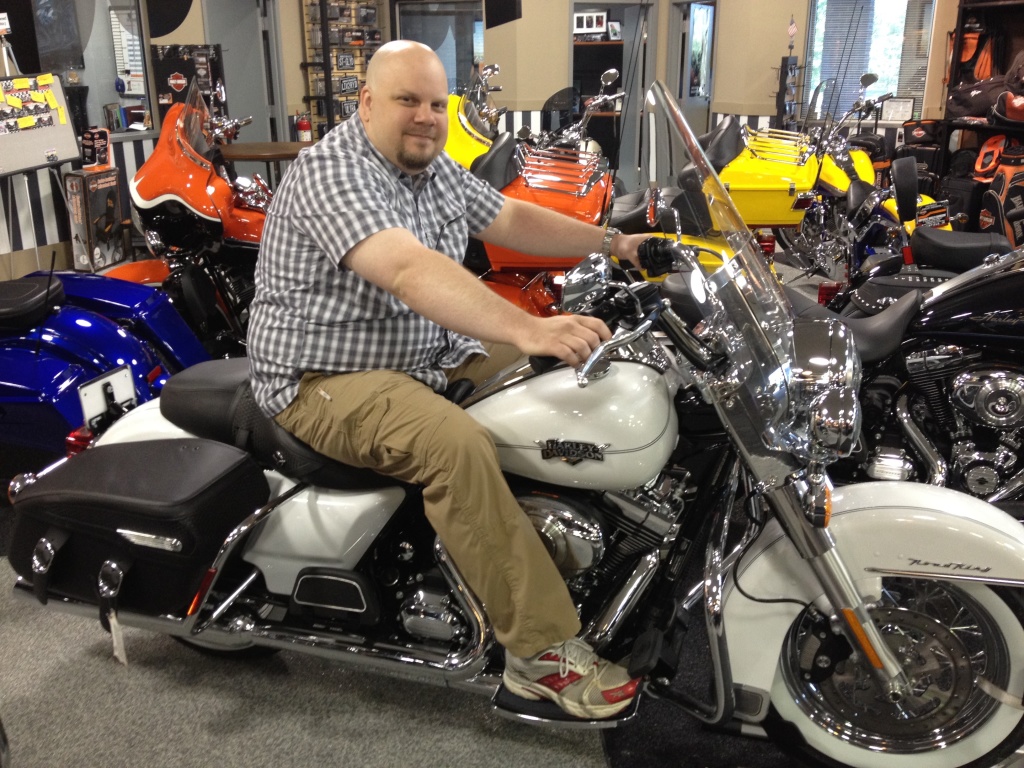 When I returned the next day the salesman asked if I had every ridden the Street Glide or the Road Glide.  They had larger fairings, gauges, and *gasp* radios.  I said no, and he set me up with some test rides. I immediately didn't like the Street Glide. It felt a bit claustrophobic, and I know that sounds weird, but the fairing seemed right up in my face. However when I road on the Road Glide, I really appreciated that radio, and that you could lock the saddlebags, something you couldn't do with the leather bag on the Classic. All of my test rides to that point, were less than 45 mph on a little winding road through an industrial park. That was the mistake right before mistake #1, sure that makes sense. I decided I really liked the Road Glide, and it wasn't the most popular model so I saw less of them.  Deal. Sign the papers, hope on board and drive the below beauty home.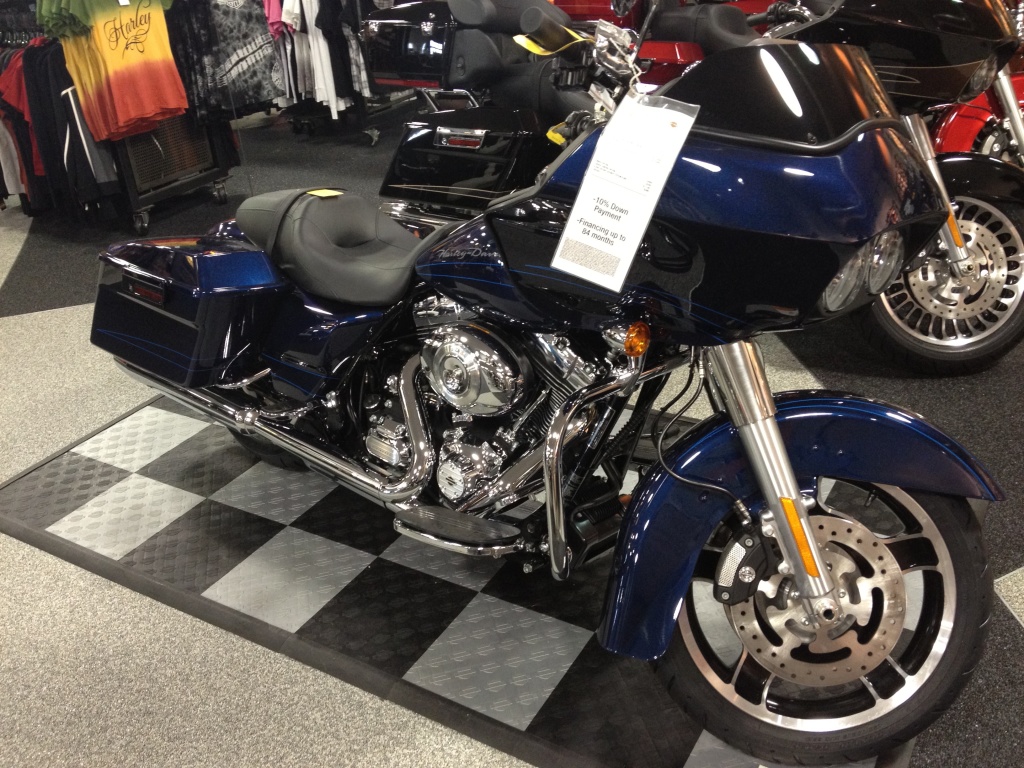 On the way home, I get my first taste of interstate riding. Whoa, that's a bit different than the test drive. 70 mph generates a lot of wind buffeting that you just don't feel at 45. Like I said, my mistake. For my daily riding, you pretty much have to get on the interstate to go anywhere, it's Indiana, things are kind of sprawled out between the corn fields. So what's a fella to do? Throw money at it dammit. So I did. That tiny stupid black "windscreen" was the first to go with a 8″ recurve model. That helped, but the big problem is the wind coming from just past the front wheel and rushing up to the face. This causes a lot of head bobble and eye shaking that's fine for a little bit, but compounds fatigue on longer rides.  This bike was made for bar hopping, and cruising around town. Yes it CAN tour, but it's not ready to.  It was also hotter than Hades. Those heads and exhaust headers snap crack and pop with heat.  That heat transferred up to the passenger over long rides.
I was frustrated, and instead of spending the money turning the Road Glide Special into a Road Glide Limited, I turned to another bike. The Honda, affectionately known as mistake #2.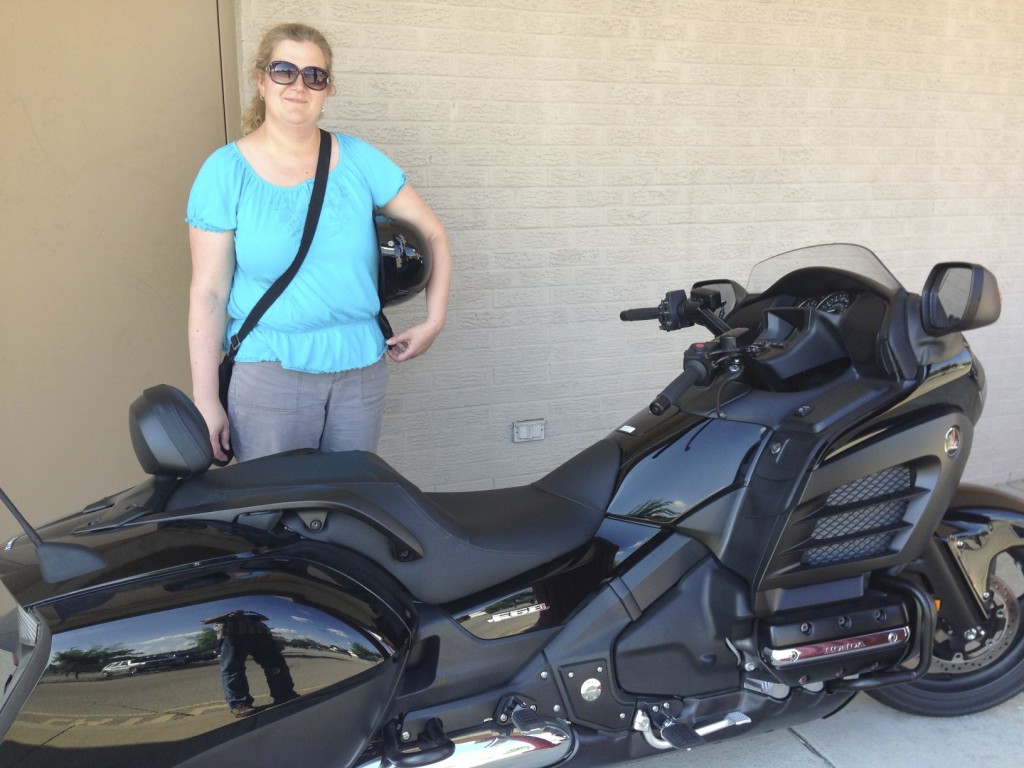 So what issues that I had did the Honda fix?
Wind buffeting, at least after I replaced the tiny useless windscreen. Your legs sit behind the fairing completely, and that really makes a difference in how long you can comfortably ride in a day.  Weather is only a suggestion.
Power.  Basically it doubled the horsepower, the engine is just fantastic. The flat six is extremely balanced, and sits the weight very low. I could corner with this bike probably 50% faster than the HD, and it felt safer.
Heat. I never once felt hot because of the engine. The fans blow hot air away from the rider when stopped, and it worked fantastic.
The "cockpit" of the bike is very cool and airplane like. The black Honda felt a little like an imaginary SR-71, and I liked it a lot. It looked a bit old and dated, but still pretty cool.
Jen thought the passenger seat was much more comfortable. It's larger, and had built in grab handles. This pleased her, but still didn't make her want to ride with me.
What issues did the Honda not fix or introduce?
Lack of Cruise Control. Seems minor right? Well after 8 hours of riding and holding the throttle open at 70 mph will show you otherwise. I can't believe they left Cruise Control off a Goldwing.
Paint was horrible. You would scratch it just looking at it. From what I understand it was a water based paint, and it just has no protection. It looked horrible after just 1k miles.
Radio was really bad compared to the HD. I'm not sure if it was just underpowered, or not projected perfectly, but it just didn't work past 40 mph.
Exhaust sound. If you like a good exhaust rumble, this doesn't have it.  Was that a deal breaker, of course not.
No ABS. Again, what the hell is Honda thinking?
HD rage. Typically motorcyclists wave at each other out of respect as they pass each other. On this, I'd occasionally be flipped off. Once or twice I'd just write it off, but it happened way more than that.
The Key drama. It required a key to start, and to open the saddlebags. After coming from the key fob of the HD, this was a royal pain in the ass.
The dealer I bought it from is no longer in business. Sure the warranty was good at other dealerships, but this was still troubling.
After I took the Honda on my Upper Peninsula trip I knew the lack of Cruise Control was a problem. It's just stupid to not have it on a bike like this. Sure enough the 2015 model gets Cruise as standard, 2 years too late. Frustratingly I was still unhappy with the long distance performance. The normal Goldwing is an amazing bike with a huge amount of customer support. Long distance riders will tell you it's the cadillac of touring bikes, and it's true. It just didn't work for me. It's not you, it's me, but it's mostly you.
During my vacation on the Honda, Harley-Davidson announces Project Rushmore. The touring models get massive changes, and just so happens they are addressing most of my major complaints.
Improved wind buffeting by 20% with the slipstream vent. Check.
More power, still not as good as the Honda, but better. Check.
Liquid Cooled Heads, more cooling, allowing higher compression and more power. Check.
Infotainment center with GPS navigation. Welcome to 2014.
Passenger comfort, complete redesign making it wider, deeper, and have more legroom. Check.
A bunch of other nice little things.  One touch design, everything can be operated by one hand. LED headlight and tail lights, linked ABS brakes, and more storage area.
Well shit, they fixed Harley-Davidson. Of course it happens 6 months after I buy the Honda. I've got that kind of timing perfected. There's only so long I could wait before I went down to the dealership and looked at one. The changes really make a huge difference. Jen was furious with me, but this time I was getting a proper tourer, not something that half-assed it.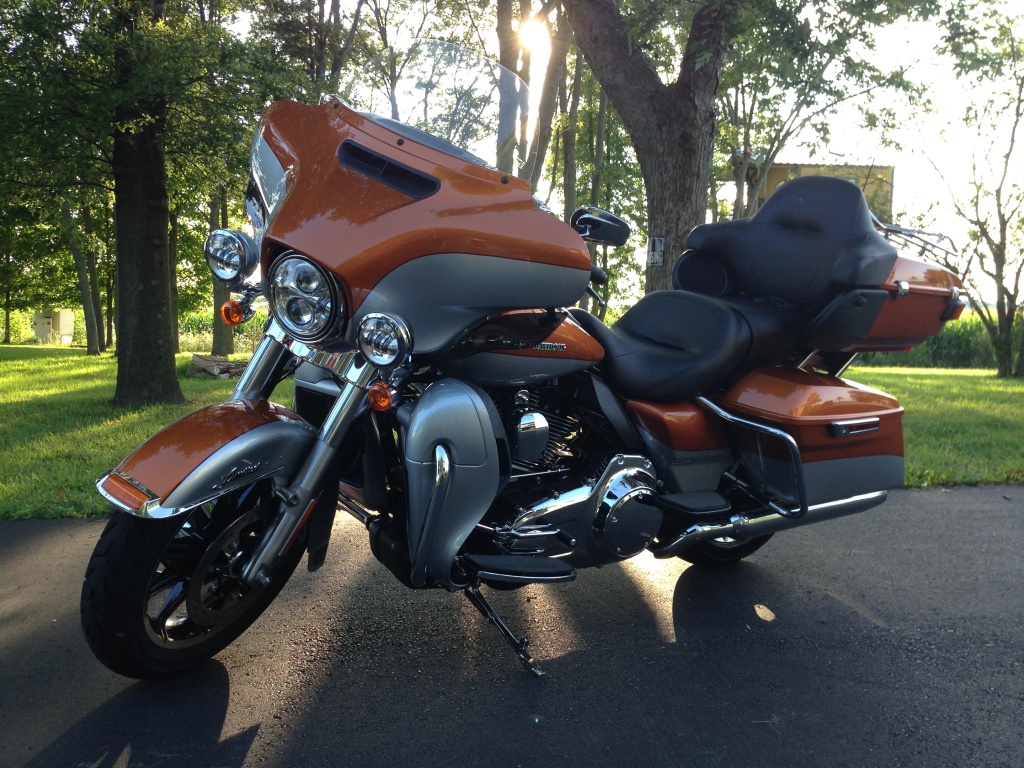 I bought a Limited in Amber Whiskey and Brilliant Silver. Lower fairings, passenger "throne", tour pack, dual cooled engine, the whole nine yards, and price to match. When I first rode a Street Glide I felt claustrophobic, what changed?  I don't know, but it felt fine. I imagine the Honda was slightly closer than the Road Glide, and over time it just got normal. I'm still in the honeymoon phase with the purchase, so naturally anything out of me is glowing praise still. I did a 250 mile ride with it a couple days ago, and it performed great. The tour pack holds so much, it's like a gigantic bag of holding. I'm seriously surprised how much I can get in there. I'm going to put it to the test in October. 2500 miles down to Texas and back through a bunch of National Forests. I can't wait to leave. Do I finally have the bike I tried to buy 3 times now? I sure hope so, but time will tell.
In the end, here's my advice for avoiding these costly mistakes.
Think about what riding you are actually going to do, not what you dream about doing. What conditions are you really going to be riding 98% of the time.
Make sure your test ride is with your normal riding gear, and in a variety of conditions. Interstate, highways, slow speeds, twisty turns, stops, hills, and anything else you will normally ride everyday. Maximize this drive.
If the test ride isn't enough, try renting a bike for a weekend. Yeah, it isn't cheap. You know what else isn't cheap? Buying the wrong bike.
Don't buy a stripped down bike if you just plan on buying everything to add back to it. Accessories aren't cheap, and often cost more than the fully equipped bike.
If you are riding in America, on paved roads, there's a good chance a Harley-Davidson is going to be on your short list. If not, it should be. The Rushmore changes cannot be underestimated.
If you want a passenger, you better make them as comfortable as humanly possible. Comfort builds trust.
TL;DR Buy big Harley, make friends, get wind in face.